Trendy short haircuts for round faces
Not all trendy short haircuts suit a round face.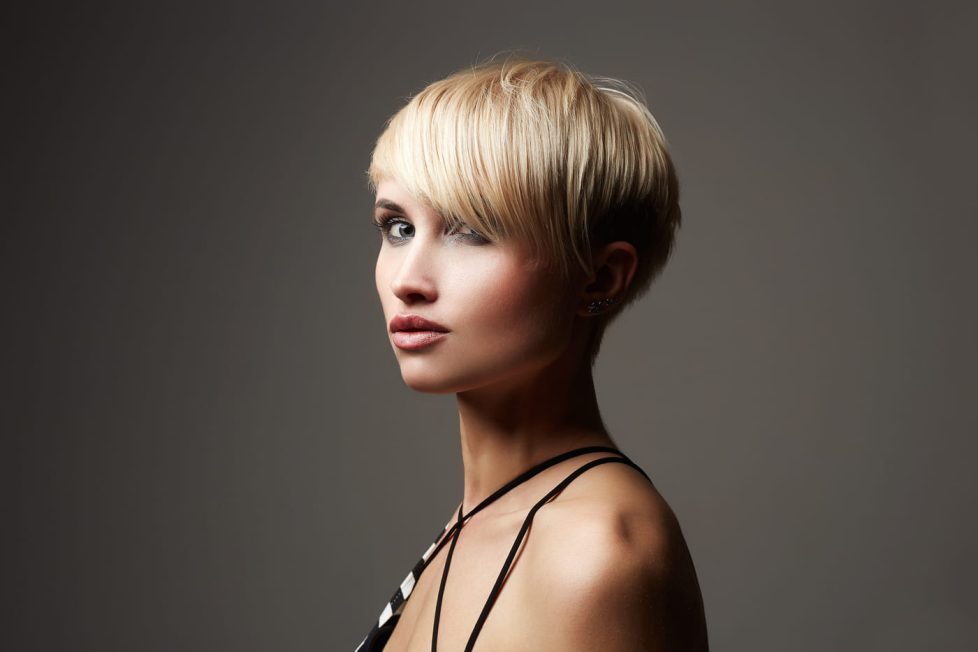 Rounder faces have slightly rounded cheekbones, a rounded hairline, and the distance between the hairline and the chin is the same as the distance between each cheekbone.  A trendy short haircuts for round face shapes will add more definition to the cheekbones and jawline.
One of the best ways to achieve this is for your hairstylist to cut face-framing layers into the haircut. The movement of the layers around the cheekbone and jawline area will break up the roundness of the face and make it appear longer. If you're looking for the most flattering and trendy short haircuts for round face shapes, then you're in the right place.
Here are the most trendy short haircuts for round faces.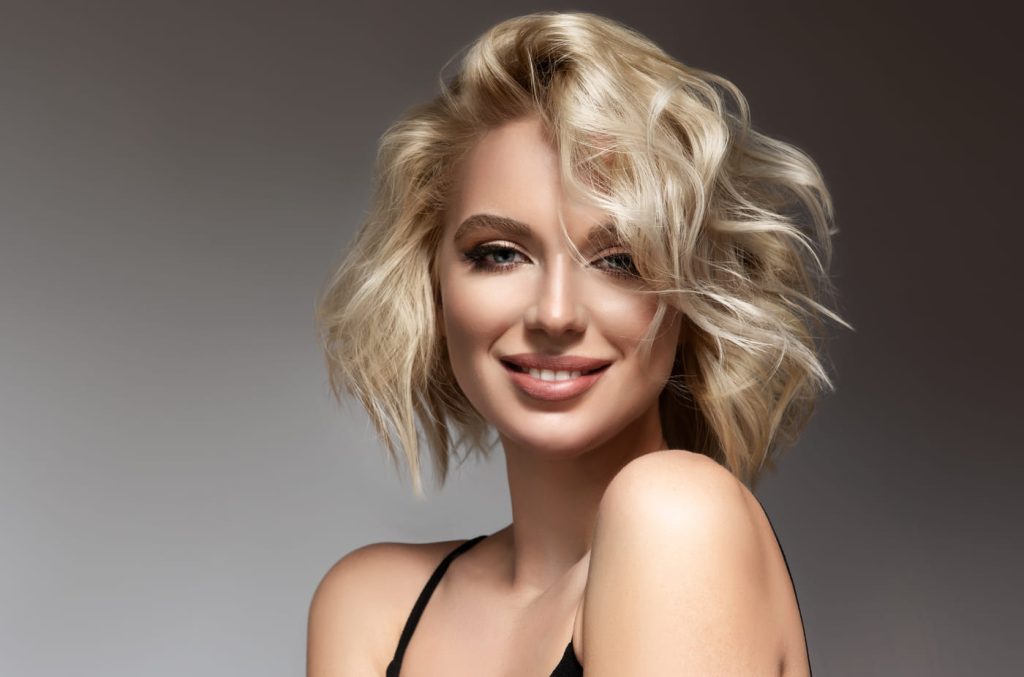 Bob With Side Fringe
One of the cutest – yet most trendy short haircuts for round faces is a bob haircut with a side fringe. The key to adapting the cut for a round face is in the details. Lots of choppy layers and texture are essential to avoid the 'hair helmet' effect. Meanwhile, the side fringe visually 'slices' your face at an angle, drawing the eye diagonally rather than straight across.
Side Swept Beach Waves
Not only are side-swept beach waves super sexy and glamorous, but they also combine some of the most flattering hairstyle elements for round faces. Longer hair helps to balance the width of a round face while sweeping the hair to one side makes your face seem more narrow. Meanwhile, loose, beachy waves help draw the eye down, making your face appear longer.
Trendy short haircuts: Voluminous Lob
It may seem counterintuitive, but a short, voluminous hairstyle can be very flattering for round faces and is ideal for those with naturally thick hair. A textured lob cut is an excellent option as the layers and waves fall below your chin, meaning your face will look longer and narrower. Adding volume at the crown of your head will also create the illusion of a longer face.
Shag Haircut with Bangs
Dynamic and full of movement, a shag haircut is one of the most trendy short haircuts for round faces. It is an ideal choice for ladies who love an intentionally 'undone' hairstyle with a '70s vibe. Choppy, textured haircuts like the shag are a classic option for round faces. That is because they draw attention away from the jawline and widest part of the face. By adding bangs, you can also cover up a broad forehead, which is also a feature of round face shapes. Make sure your stylist blends the bangs into the rest of the cut for a seamless look.
Short Afro Haircut
While the classic long, '70s Afro can make your face appear wider, a short Afro looks fantastic on round face shapes as your stylist can make subtle changes to suit you. They will leave more length at the crown of your head, combined with shorter sides, to balance your proportions. Your face will look slightly longer, but not wider. Plus, a short Afro is easy to maintain and is an ideal option if you're growing your natural hair out after 'the big chop.'
Wavy Medium Length Hair With Highlights
Want to flatter your round face without changing your medium-length hair? Try adding face-framing waves and highlights. The waves add movement, drawing the eye down and visually lengthening your face. Meanwhile, highlights give your hair dimension and can be strategically placed to draw attention to your best features, such as your eyes and away from your softer jawline.
Asymmetrical Lob
Dynamic haircuts, like an asymmetrical lob, look fantastic on round faces as they visually 'cut' the face, making it look around two-thirds of its usual width. The angles of an asymmetrical lob also contrast beautifully with full cheeks, while the longer part of the haircut draws the eye down to draw attention away from the jawline. This is one of the best trendy short haircuts for those who want a chic look with a modern twist.
Straight Side Part Bob
While women with round faces are generally advised to avoid super straight or short haircuts, the straight side-part bob haircut is one of the best trendy short haircuts for them. Due to the way your hair falls, your face will seem more narrow. And while the cut is shorter than a lob, it still falls below your chin, making your face appear longer. Plus, your stylist can cut in subtle layers to ensure your hair doesn't look overly structured or flat.
Baby bang
The Baby Bang cut is characterized by its very short bangs, the one that goes above the eyebrow, the haircut is at the average height of the neck. You can play with the fringe in this cut, as it allows for numerous variations providing a retro-style.